Kristen Stewart is "incandescent", "tender" and even "stunning" as Princess Diana, according to critics who have seen the new biopic Spencer.
The Twilight actress depicts the late princess over three days at Sandringham during Christmas 1991, before she separates from Prince Charles.
The Telegraph's reviewer Robbie Collin said she "will be instantly and justifiably awards-tipped for this".
It is a "resplendently mad, sad and beautiful" film, he said.
Spencer has been made by Pablo Larraín, who previously directed Natalie Portman to an Oscar nomination in Jackie, about another highly scrutinised female public figure, Jacqueline Kennedy.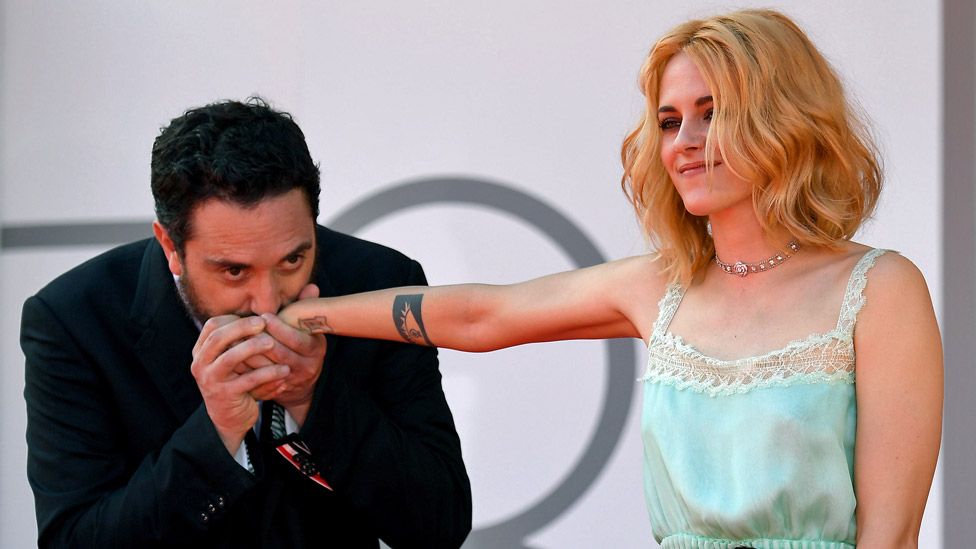 The new movie is "thrillingly gutsy, seductive, uninhibited filmmaking", Collin's five-star review added.
Stewart "navigates this perilous terrain with total mastery, getting the voice and mannerisms just right but vamping everything up just a notch, in order to better lean into the film's melodramatic, paranoiac and absurdist swerves", he wrote.
"I can't say enough about Stewart's performance, steering from an impression of an impossibly well-chronicled figure to beautifully achieving the essence of who she was.
"It is a bracing, bitter, moving, and altogether stunning turn, taking Diana down roads we have not seen played out quite like in this mesmerising portrayal."
 The lead performance was "brittle, tender, sometimes playful and not a little uncanny".
He wrote: "Stewart brings her own magnetism to the role, as well as presumably drawing her own history of contending with obsessive fan and media attention."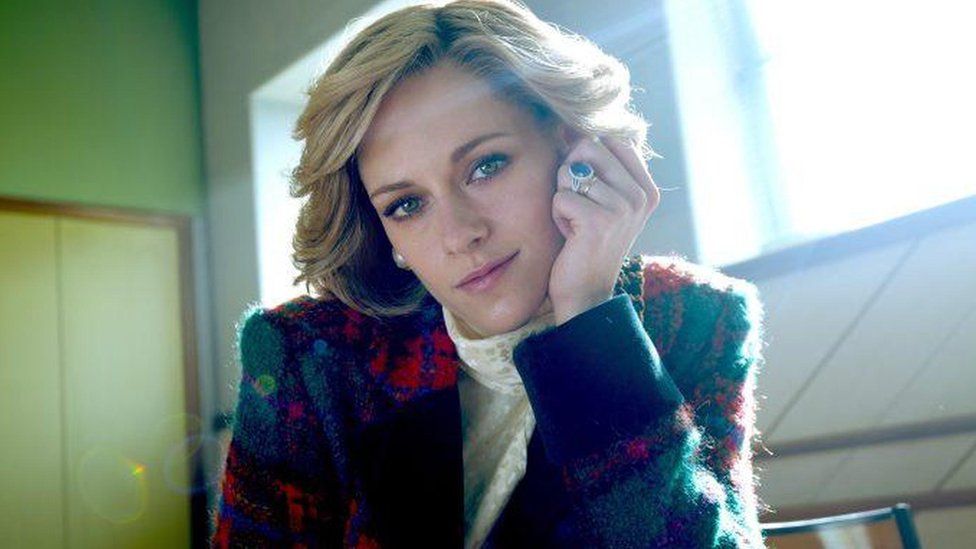 That Stewart's casting seems like "a meta stroke of genius".
"Stewart is one of the few people on the planet who has known paparazzi scrutiny that is even somewhat comparable to the fusillade of flashbulbs that hounded Diana until her death," he said.
 The film as "audaciously original" and Stewart as "incandescent" if "on the edge of hysteria from the start".
"She's jittery, brittle, often abrasively defensive and yet deeply vulnerable in a film that puts her through a psychological wringer with shadings of outright horror," he wrote. "This is a long way from the more decorous treatment of Netflix's The Crown."
Called it an "extraordinary" film, and called the director's approach "rich and intoxicating and altogether magnificent.
Not everyone was as effusive, though. The Times awarded two stars to "this infuriating mixed bag", which "veers wildly from moments of dreamy intrigue to risible scenes of camp", Kevin Maher wrote.
"The central turn is Diana played by the Twilight star Kristen Stewart with the kind of studied intensity that suggests relentless consumption of the Panorama interview (the head tilt, the batting eyes) and fruitless hours with a dialect coach that has produced only a strange, strangulated whisper."
Speaking ahead of the premiere, the Chilean director said his mother had inspired him to make the film.
"Somehow, despite the enormous distances between these women, I always felt that my mother was very interested in this story, and was somehow influenced by her – like millions of people around the world,
"Then I wondered why Diana had created such a level of empathy. It's a very complex answer."
However, he warned that audiences shouldn't expect a straightforward biopic, stressing that his film was intentionally a work of fiction.
"Before they go to see a movie like Spencer, [people] might say, 'We're going to really understand who this person was.' No! Wrong number! Wrong movie! We don't do that!" he told Vulture.
"We're just trying to work with whatever that person was and create a fable out of it. That's what I'm looking for. We'll see if it works."
Stewart said playing the princess had left her feeling "free and alive", describing Diana as "a sparkly house on fire".
"There are some people that are endowed with an undeniable penetrating energy," she said in Venice, "[but] the really sad thing about her is that, as normal and casual and disarming her air is immediately, she also felt so isolated and lonely.
"She made everyone else feel accompanied and bolstered by this beautiful light and all she wanted was to have it back."